What Others Say
One Single Species - Why the Connections in Nature Matter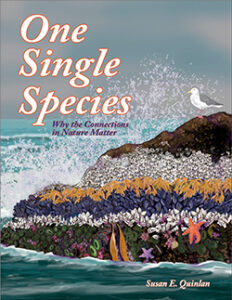 "Through beautiful artwork and engaging text, this book not only tells the important story of historic research by a remarkable scientist, but also communicates the great importance of understanding natural history and the complexities of nature."
– Dr. Paul Dayton
Professor Emeritus
Scripps Institution of Oceanography
---
"One Single Species is a gem, in its clearly-written text and revealing art. It describes pioneering research–on an ocean coast–that led to a new understanding of the interconnections of life in an ecosystem. Readers will learn that loss of just one "keystone" species can cause dramatic changes in the lives and survival of others. The author gives further examples of birds, insects, crustaceans, and mammals that are also vital keystones in their habitats. This book will be useful in STEM programs, and there is nothing quite like it in school libraries."
Laurence Pringle
Author of 120 books for children (mostly nonfiction)

---

"The author's beautiful full-spread illustrations capture the atmosphere, variety, and splendor of Washington's coast along with lovely depictions of sea life and other creatures. Without getting overly technical, Quinlan explains the sometimes-complicated concepts with clarity and energy. She gives readers a chance to see how a working scientist conducts experiments, conveying a sense of exploration, curiosity, and wonder at the interconnectedness of things. … Useful, informative, beautifully illustrated, and well written—a superior introduction to understanding ecosystems."
---
"One Single Species describes the fascinating research project that inspired me to become a scientist. I am delighted to see this wonderfully illustrated book bring the story of this important research to the attention of a new generation." 
– Dr. Tim Wootton
The University of Chicago
---
"Immerse yourself in a tidal ecosystem and into one scientist's search for an answer. Susan Quinlan weaves the tale of Dr. Robert Paine's discovery of the importance of one single species. She does this through rich illustration and descriptive word with a sprinkling of carefully guided explanation. The reader will learn about not only the process of scientifically testing an idea, but also that this process is not simple or easy. They will come away with an understanding of the many inhabitants of the intertidal zone and the roles they each play. More importantly they will discover why connections matter everywhere in our lives.
I had the privilege of teaching middle school science for many years and used Susan's other books to engage my students in an understanding of the connections in our world.  Wish I had had this tale of keystone species then. Enjoy!"
Karen Zuckerman
Chair, Sun Foundation Clean Water Celebration
---
"This carefully detailed book invites the reader to move in for a close-up view of the intertidal ecosystem on the coast of Washington state. It also provides an invitation into the mind of a scientist. Intermediate and middle school teachers will find many avenues for inspiring students with the beautiful illustrations, the delineation of science process skills, the compelling portrait of a scientist in action, and the connections to ecosystems around the world."
Judith Youngquist
Teacher in Alaska public schools – 30 years
Adjunct professor at University of Alaska Anchorage – 5 years
Mentor & teacher trainer for the Alaska Statewide Mentor Project – 9 years
---
"An author can give no higher praise to a new book than to say,"I wish I had written that." Susan Quinlan's new picture book on keystone species certainly lands on my "favorites" list. It is a significant addition to the science realm for elementary students. Susan's illustrations are spot on and capture the glory and intricacies of a Pacific tidal change and how habitats can hinge on a single species. I really appreciate her giving tribute to the scientists who did this work over decades, especially Bob Paine. This is a must have for the classroom and library."
Shelley Gill, Author
Alaska's Three Bears, Thunderfeet, Swimmer, The Last American Rainforest, Big Blue
---
"By explaining how a scientist approached a question and conducted his study, Susan Quinlan has crafted an engaging story and beautiful book in the tradition of her books The Case of the Mummified Pigs and The Case of the Monkeys that Fell from the Trees. This book will be released just in time for classes' spring field trips to the beach. The story uses Dr. Robert Paine's experiments with sea stars on the northwest coast to explain the concepts of experimental design in life science and keystone species. The narrative's vivid imagery transports the reader to the natural settings; illustrations further provide a sense of place by incorporating scientifically accurate details. The story of the organisms' connections on this coast are revealed, just as the tide exposes the creatures of that coast. Readers and teachers will find the last part of the book a treasure trove that provides natural history facts about the book's species and worldwide examples of other keystone species (identified following Dr. Paine's groundbreaking work.) I will use this book in my own teaching this spring and recommend that the district add it to the curriculum as a resource for all teachers."
Peggy Cowan
Longterm School Superintendent & Outdoor Educator
---
"Susan Quinlan's One Single Species: Why the Connections in Nature Matteris an outstanding children's book that tells a scientific story about ecological interrelationships accurately and engagingly. The story is based on a classic experiment by Dr. Robert T. Paine ("Bob" to his friends) that transformed the fields of ecology and environmental conservation. Vibrant, accurate illustrations of intertidal communities and habitats is combined with engaging and clear prose that first makes the intertidal zone come alive and then engages young readers in Bob's quest to understand the interrelationships in those communities where sea stars are the major predator. The consequences of his sea star removal experiments reinforce understandings about the "who eats whom" of food webs and guide students into critical thinking about the implications of environmental changes that affect a single species with a keystone role in an ecosystem. This would be an excellent addition to marine education teaching resources for this age group as well as a wonderful gift to stimulate any young person's interest in observing and caring about the natural world.
Understanding the consequences of the experimental removal of sea stars is especially relevant in Alaska and West Coast communities close to coastal areas where sea stars have been removed from intertidal areas by a widespread Sea Star Wasting Disease that may be connected to warmer water conditions in the ocean. But Quinlan also supplements the story about Paine's intertidal research with other examples of keystone species that students may be more familiar with if they don't live along the coast. The book also includes Paine's biography, more information about coastal birds, and a glossary of scientific terms.
It's especially noteworthy that Quinlan collaborated with Bob Paine and his family – both actual and by dint of scientific lineage – in writing and illustrating the book. A portion of the book's proceeds will be donated to an endowed fund created to extend Paine's research by supporting ecological research by graduate students."
Marilyn Sigman
retired Alaska Sea Grant marine educator,
winner of the 2020 John Burroughs Medal in Natural History Writing
for Entangled: People and Ecological Change in Alaska's Kachemak Bay.
"What a vibrant resource for young people to learn the vital role of a keystone species in an ecosystem! Now such a fundamental principle of ecology, it is hard to imagine we ever studied nature without this knowledge. Quinlan adeptly depicts the story of ecologist Robert Paine's recognition that certain species are essential in maintaining an ecosystem's biodiversity. She illustrates Paine's demonstration that identifying and protecting keystone species can help preserve other species' populations. I would use this book with learners of any age, even with adults new to environmental learning, as the beautiful artwork and succinct, accurate text clearly convey a rather abstract concept. "
– Janet Ady, Ph.D.
Environmental Educator r
"Quinlan's "One Single Species" beautifully tells an important story for our time. The detailed and colorful illustrations of the intertidal ecosystem being studied by Scientist Bob are coupled with the story of how one person's curiosity and commitment can make a significant difference in the world. She invites each of us to look closely at the natural world around us and notice both the connections within natural systems and the deep connection between the well-being of people and nature. Although it is about the work of a different scientist, reading this story brought to mind Rachel Carson's love of the sea and her keen awareness of the interconnections between all life. My kids and I wanted to head straight to the ocean after enjoying this book together."
– Chiara D'Amore, Ph.D.
President, The Community Ecology Institute
Director, Columbia Families in Nature
---
"One Single Species tells a story of paramount importance and significance to our understanding of the world with incredibly rich illustrations and thoughtful informative language.In short, the story unfolds the history of the ground breaking work of Ecologist Dr. Robert "Bob" Paine and his dedication to understanding better how the intertidal ecosystem works.
Susan Quinlan, has dedicated her own life to not only learning about and studying various aspects of the natural world but also teaching people of all ages the importance of healthy and diverse ecosystems.As an illustrator and author she has brought to light in this book the value and importance of science, ecology, and respect for nature in a fashion suitable for all ages.Today we would consider the concept of "keystone species" a basic tenet of ecology, this book makes that concept, and the story behind it, an inviting introduction to the natural world and the need for the further pursuit of understanding.
I imagined while reading this book and drinking in the beautiful illustrations that I had no prior knowledge of the science of ecology or the story of Dr. Bob Paine.By the time I was finished with it I was inspired to learn more, see more and share more intimately my own passion for the natural world.In all honesty, "One Single Species" should be on every coffee table, in every library and every schoolroom; Why? Because we need publications like this that not only teach the next generations these concepts and values, but also enlightens the generations making decisions affecting the future of our planet."
– Doug Gualtieri
Naturalist
---
"Immersive writing and educational artwork at its very best! Take a walk into the intertidal zone alongside Dr. Robert T. Paine and explore the delicate web of connections between a single species and its environment. One Single Species: Why the Connections in Nature Matter brings the living details of Washington's rocky shores alive in the hands of young readers. From cover to cover, it is a wealth of scientific knowledge and most importantly a story that inspires us to continue learning."
– Emily Newton
Undersea Specialist
Scientific Diver and Marine Ecology Research Technician
---
"Author/illustrator Susan Quinlan does a masterful job telling the story of Dr. Robert T. Paine, an ecologist who, through decades of scientific work in a west coast intertidal zone environment, demonstrated how important one single species can be in maintaining an ecosystem. He formulated the concept of a "keystone species"—a species so central to the "archway of nature which that species shaped" that it determines whether that ecosystem lives or dies.
Quinlan's artwork adds greatly to the story, showing the vast wealth of a healthy intertidal community in all its colorful diversity. In outlining Paine's career and careful science, Quinlan also shows how one individual can shape and clarify an entire field of study, providing critical direction to those who followed him. Readers will be amply rewarded with sound science presented with great artistry."
Gary Raham
Author/Illustrator
---
BOOK DETAILS
ISBN: 978-0-9970077-4-9 (Hardcover)
978-0-9970077-6-3 (Paperback)
978-0-9970077-2-5 (eBook)
Publication Date:  March 10, 2020
Grade Level: 4th and up